With the 2022 Leadership Institute in the books, it was a banner year for NDDU! Here's a quick breakdown with a few pictures:
---
Matthew Fredrickson, Blake Polejewski and Taylor Flaata, along with alumni, Kody Rother '09, Spencer Skavhaug '22, and Jacob Haugen '19, attended the recent Delta Upsilon Leadership Institute in Orlando, FL.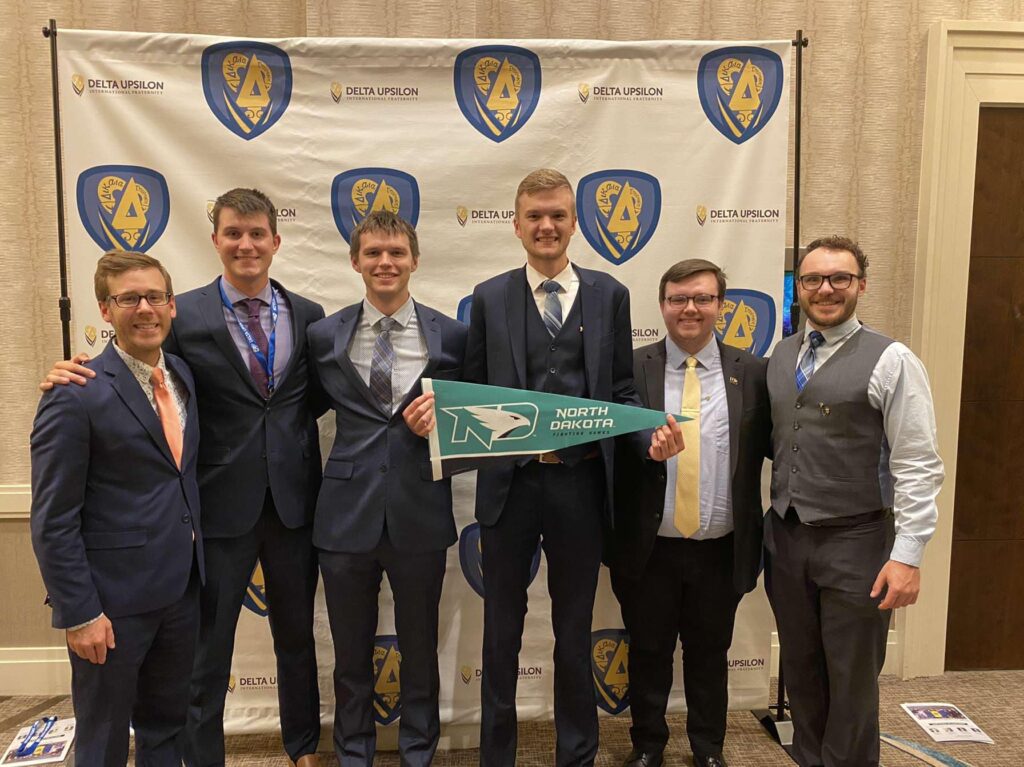 ---
---
North Dakota received awards for two elements of their Chapter Excellence Plan (CEP):
Associate Member Education and Membership Development.
---
In addition to those awards, Blake Polejewski has been elected to the Undergraduate Advisory Board for the Great Plains Province (4).
---
Updated 10/12/2022 with the script that Tim Dowd read from the stage during the Leadership Institute Awards Luncheon for Brad Aafedt's Chapter Advisor of the Year award.
Delta Upsilon's success on the international level is directly related to the success of our chapters at the local level. Our undergraduate men put in countless hours of work to keep their chapters running. However, it is important to recognize that DU's most successful chapters have strong alumni advisors who provide insight, advice and mentorship. It is my honor today to present the award for Outstanding Chapter Advisor.

The Outstanding Chapter Advisor Award recognizes those who serve as true servant leaders and model the way for our undergraduate brothers. The role of a chapter advisor is not always glamorous, but it is one of the most important roles within the Fraternity. If you serve as a Chapter Advisor for any of DU's chapters or associate chapters, please stand to be recognized.

The recipient of this year's Outstanding Chapter Advisor Award has played an integral role in the chapter's recent success. When he joined the advisory board in 2019, the chapter was struggling in many areas—recruitment, finances, engagement. With this brother's help, the chapter reorganized its alumni volunteer structure and recruited more alumni to help. Now, with strong advisory support, this chapter is thriving.

In his nomination letter, the chapter said: "Although he is just our chapter advisor, he is more like our house dad. His involvement extends past chapter and house operations. If you need someone to be there for you, need life advice, or anything in general, he is there for his chapter and his brothers."

Let's hear more from the chapter:
While, unable to join us in Orlando this weekend, join me in honoring our 2022 Outstanding Chapter Advisor, Brad Aafedt, North Dakota 1986.